Its all about Team Spirit here today at Meljen Designs!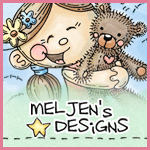 We have a new Challenge starting and the theme is Team Spirit!
Now, you can create anything with Team Spirit but I am not much of a sports kind of girl so I had a bit of trouble with this one! SO, I decided that being from Toronto I would HAVE to use the team colours of the Toronto Maple Leafs...Blue and White!
I know my finished product is NOT hockey or sports related but I think it has spirit and it is the right colors!
I paired it with papers, ribbon and twine from SU and coloured the image with Copic markers.
Join us is this weeks
Challenge
and bring on the spirit!
Sue